Welcome to the site! You're listenin' to Sugar & Spice by Brothers Donovan. Check out the Swell Sounds page to find our version of the Grateful Dead's Shakedown St. as well as Kingdom Come by The Band. Have a listen!! Don't forget the Schedule page to find out where we're playin' live!!
BROTHERS DONOVAN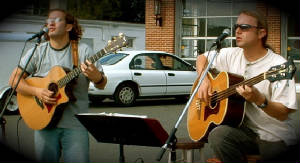 - Frank Donovan (guitar,vocals) ----------------------------- Ken Donovan (bass,vocals)
*Brothers Donovan is an acoustic duet that also appears as an electric ensemble titled dReAmSwell.  Both acts are often combined within the same show and include one or more special guests!!  Check the Schedule page often for details on upcoming events!
Our musical style can be described as being a version of ROCK that has various genres wrapped in with it. We love to play roots REGGAE music, and include occassional elements of JAZZ and IMPROVISATION through JAM sections of songs. You can also hear us do BLUEGRASS and FUNK music. Bottom line, we are a unique musical blend enjoyed by a diverse population of music lovers...Come see us in a town near or far from you!
We have a lot of fun playing music for people, and try to relate that feeling to our audiences. We do our own versions of lots of cover songs, as well as a lot of our own music. We attempt to blend these realms for each performance in order to create a quintessential conglomeration of melody, rhythmn, and harmony!
To join the e-mailing list to stay up-to-date with all Brothers Donovan' public appearances and news, email us at kendonovanjr@sbcglobal.net.  If you don't check your email very much, send us an email with your name and address to join our regular mailing list.